Support Packages
TIMEUK.COM offer a wide range of support packages to suit everyones needs. Simply choose the support package you require when purchasing your system.
Total Care 'Pay As You Use' Support Packages
TIMEUK.COM recommends Total Care and Support Ltd for all our support packages. Total Care is one of the UK's leading service and support organizations and specializes in providing hotline support and repairs for PC and Flat screen products.
Rather than charging upfront for your support package, Total Care normally charges on a monthly 'pay as you use basis' and support packages are available from as little as £5.99 per month for PCs. There are also Total Care/ Digital Home Club packages for LCD/Plasma products from as little as £12.99 per month. If you order a Total Care Support package, your subsequent monthly payments will be collected by Total Care and Support Ltd.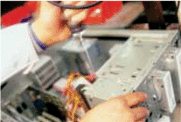 We strongly recommend that you purchase a Total Care 'pay as you use' service and support package.
Total Care 'upfront' 3 or 5 year support packages
Due to customer demand, Total Care can also provide TIMEUK.COM customers with upfront 3 or 5-year support packages.
General Guidelines on Total Care 'upfront' Packages
The content of this page does not affect your legal rights. Extended Warranties provides benefits, which are in addition to your legal rights. Whether or not you purchase an extended warranty, consumers have various statutory rights that apply to the purchase of your electrical goods. These include the right to claim for a repair or replacement for up to six years (five in Scotland) if your electrical goods when sold were not of satisfactory quality or fit for their purpose. Within the first six months the burden of proof is on the retailer to establish that the goods you purchased were of satisfactory quality and fit for their purpose. However, after the first six months, you will have to prove that the goods had a fault when sold to you.
You may also be able to purchase 'upfront' 3 or 5 year extended warranty packages from other companies. Total Care will continue to provide coverage under the warranty until its expiration even if you make a claim. These warranties are not covered by insurance, the Financial Services Compensation Scheme or by a ring fenced trust or other such arrangement. You do not have to purchase an extended warranty at the time you buy your product. These can be purchased for up to one year from the date you purchase your product however any quotation will only be valid for 30 days.
Further information about your rights as a consumer can be obtained from your local Trading Standards Department or Citizens Advice Bureau.
Time Machine Backup Software Included with Selected PC Packages
Selected Total Care support packages for computers come as standard with the leading TIME MACHINE Backup Software that fixes software problems and resets your PC back to factory settings. It automatically provides a backup of all your Windows software, System Files and configuration settings. RRP £99.
Ordering a Total Care Support Package
If you wish to order a Total Care support package, you can request this on the order and we will pass your details to Total Care and Support Ltd. Alternatively you can contact Total Care directly at any time. Simply quote your details and customer account number when ordering. visit www.totalcaresupport.com for the latest Total Care contact information